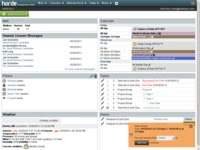 Horde Groupware Webmail Edition is a free, enterprise ready, browser based communication suite. Users can read, send and organize email messages and manage and share calendars, contacts, tasks, notes, files, and bookmarks with the standards compliant components from the Horde Project. Horde Groupware Webmail Edition bundles the separately available applications IMP, Ingo, Kronolith, Turba, Nag, Mnemo, Gollem, and Trean.
It can be extended with any of the released Horde applications or the applications that are still in development, like a bookmark manager or a file manager.
Please see the Horde Groupware page for general features of the the Horde Groupware Webmail Edition and the calendar, contacts, tasks, and notes components.
Additional features of Horde Groupware Webmail Edition are: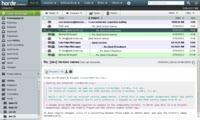 IMAP and POP3 webmail client
3-pane and 3-column-layouts
Message filtering
Message searching
HTML message composition with WYSIWIG editor
Spell checking
Built in attachment viewers
Encrypting and signing of messages (S/MIME and PGP)
Quota support
Keyboard navigation
Full character set support for folders names and email messages
Conversation view of all messages in a thread
Downloading of message attachments in a ZIP file
Flexible, individual alias addresses
IMAP folder subscriptions
Shared IMAP folders
Graphical emoticons
Support for mailing list headers
Forwarding of multiple messages at once
Attachments sent as links
Latest News
Support us!
Buy a present for our developers
Sponsors
"Thanks!" to all our other sponsors
More
Follow @hordeproject
Shops
European Store

US Store

Status