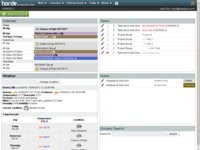 Horde Groupware is a free, enterprise ready, browser based collaboration suite. Users can manage and share calendars, contacts, tasks, notes, files, and bookmarks with the standards compliant components from the Horde Project. Horde Groupware bundles the separately available applications Kronolith, Turba, Nag Mnemo, Gollem, and Trean.
It can be extended with any of the released Horde applications or the Horde modules that are still in development, like a bookmark manager, or a file manager.
Please see the Horde Groupware Webmail Edition page if you are looking for a groupware suite including webmail support.
Features of Horde Groupware include but are not limited to:
Dynamic, basic and mobile interfaces
Public and shared resources (calendars, address books, tasklists and notepads)
Unlimited resources per user
Translated into 41 languages including right-to-left scripts and full unicode support
Global tagging sytem
Customizable portal screen including applets for weather, quotes, etc.
Online help system
Import and export of groupware data from other applications
Synchronization with PDAs, mobile phones, groupware clients
Integrated user management, group support and permissions system
User preferences with global default values
Strong integration, e.g. address book lookups in meeting planning, task due dates in calendar
Platform independant, works on any web server with PHP support, i.e. Linux, Windows, Solaris, Mac OS X Server
Abstract database support, e.g. for MySQL, PostgreSQL, SQLite
Calendar: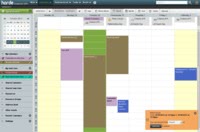 Recurring and all-day events
Alarms with email notifications
Simple and advanced search forms
Meeting planning, also with other calendar applications
Email notification about changed events
Free/busy information exchange with other calendar applications
Subscription of remote calendars
Integration into external clients like Apple Calendar, Mozilla Lightning/Sunbird, Microsoft Outlook
CalDAV, iCalendar and iTip support
Contacts: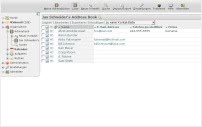 Distribution lists/email groups, also across address books
Simple and advanced search forms
Customizable address book listings
vCard support
Address book pager (rolodex)
Customizable contact fields
Integration of existing address books
Integration into external clients through CardDAV
Tasks: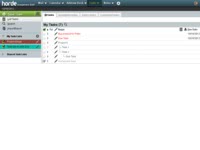 Notes: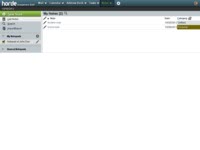 Fulltext search
Character counter
Encrypted notes
Support us!
Buy a present for our developers
Sponsors
"Thanks!" to all our other sponsors
More
Follow @hordeproject
Shops
European Store

US Store

Status